Today we celebrate International Day of the World's Indigenous People.
According to the UN, there are 370 million indigenous people in the world across 90 countries, representing 5,000 different cultures and speaking around 7,000 languages. They represent unique cultures and ways of relating to people and the environment.
During Club de Madrid's Working Group on Shared Societies and environmental sustainability, the role of indigenous people was one of the major topics discussed. Dalee Sambo Dorough, Former Chairperson of the United Nations Permanent Forum on Indigenous Issues, was part of the group. We asked her about the role of indigenous people and Shared societies, what are the challenges when it comes to inclusion and more.
Question: The role of indigenous people and Shared Societies? How Indigenous population themselves can overcome environmental obstacles that we are facing now?
Answer: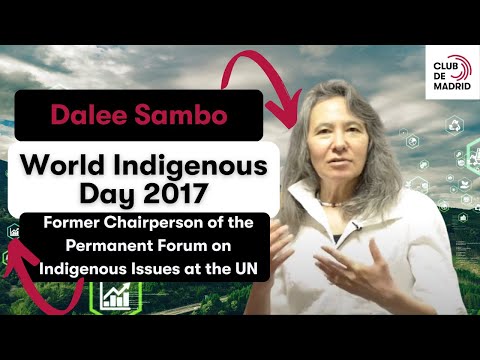 Q: What is the role of the Forum on Indigenous Issues at the UN?
A: The Forum on Indigenous Issues at the UN is a mechanism for indigenous peoples with the mandate of saturating the UN system with the perspectives of indigenous peoples across the globe.
It is a unique entity within the United Nations because 8 elected experts on indigenous issues from State governments and 8 nominated indigenous peoples representatives compose it. The nominations come from indigenous organizations from around the globe.
Q: What are the challenges that indigenous people face regarding inclusion?
A: The key challenge here is getting member states of the UN to pay attention to the outcome document and breed life into de aspirations and into the call to action of Club de Madrid's outcome documents.
Very much so like the fact that though in 2007 the UN General Assembly adopted the UN declaration on the Rights of Indigenous People, the key problem and the frustration is the lack of implementation of this declaration in order for indigenous people to effectively enjoy and exercise the human rights that are firmed in that instrument.
World leaders should realize that it is in their best interest and in the interest of their citizens to begin the implementation of that UN declaration. If the implementation of the rights and standards are effectively and genuinely put in place, it would be less pressure upon national governments and societies as a whole, because then indigenous people would become more effective participants in the design and implementation of national agendas for sustainable development, for appropriate sustainable and equitable economic development, for example.
Read the final outcome document of the working group on sustainability and Shared Societies here.